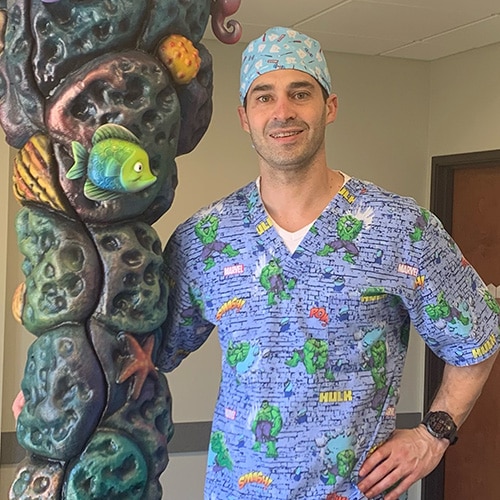 "Dr. Pete" is a graduate of Rutgers School of Dental Medicine (RSDM), formally the University of Medicine and Dentistry of New Jersey (UMDNJ). After earning his DMD, Dr. Pete completed a 1-year general practice residency at Overlook Medical Center in Summit, NJ, where he gained extensive training in comprehensive dentistry. Dr. Pete practiced for two years as a general dentist before moving to Philadelphia, where he spent two years at St. Christopher's Hospital for Children to earn his specialty in Pediatric Dentistry.
He is currently on staff at Overlook Medical Center and Morristown Medical Center.
Professional Associations
American Dental Association
New Jersey Dental Association
Tri-county Dental Society
Academy of General Dentistry
American Academy of Pediatric Dentistry
New Jersey Academy of Pediatric Dentistry
Dr. Pete was raised in Morris County, growing up in Hanover Township and graduating
from Whippany Park High School. He went to Saint Joseph's University in Philadelphia,
where he also played Division 1 Soccer and Rugby. After graduation, Dr. Pete coached
high school sports while attending graduate school and studied Public Health at the
University of the Sciences in Philadelphia. Dr. Pete went on to complete a Masters's in
Biomedical Sciences with a concentration in Oral Biology at UMDNJ.
In his spare time, Dr. Pete loves being with family, friends, his pups, and his
wife, Karina. He remains involved with his local community through Whippany Park High
School, where he and his lifelong friends provide the George Pin Chiao Wang Memorial
Scholarship awarded annually to a graduating senior.